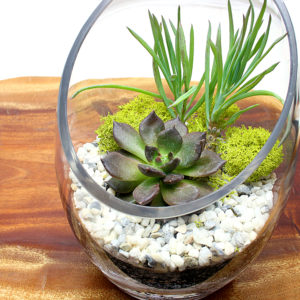 We've updated some of our succulent terrariums with a fresher, more modern look. Our glass vase terrariums now feature contrasting layers, adding river rocks and white gravel for a clean, modern style, and less deer moss, to make the beautiful succulents the focus of these unique miniscapes. The clear glass sides let you create an endless variety of layer patterns in your terrariums.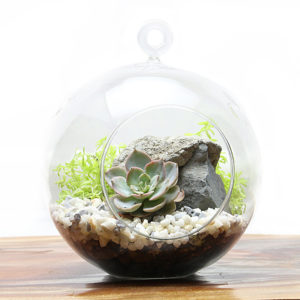 Add different gravel colors, stones, marbles, or even seashells to personalize your terrarium to match your decor, mood, or style. Want to add something more than just plants? Miniature figurines are popular choices for creating your own tiny world. We have a wide selection of whimsical creatures and traditional Asian scenery pieces if you want to accessorize your little garden.
Need some help getting started on your terrarium? Check out our very helpful article on how to assemble a layered terrarium for useful starter tips and design ideas.