Bamboo arrangements are a great alternative for people who are looking for plants that are easy and low maintenance. These arrangements can be designed to tie in to any decor; you can use a wide variety of bamboo sizes and shapes, vases, and decorative elements.
In this article we will go over the elements needed to create your own bamboo arrangement.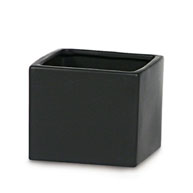 You will want to find a vase that best suits your needs. It can be square, rectangular, or round. We offer a variety of different vases in our
Bamboo Pot / Vases
section. We will be featuring the
Matte Black 4″ Pot
in this article.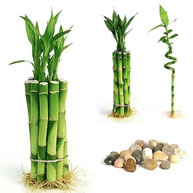 When creating your arrangement it is important that you add a thin base layer of rocks/marbles/gravel to the bottom of your vase. In this article we are using
river rocks
. The rocks/marbles/gravel in the arrangement provides stability to the bamboo to keep them in place. Once your vase is prepared with the base layer your bamboo is ready to be added. In this article we are using 4 –
8″ Individual Bamboo Sticks
, 2 –
6″ Individual Bamboo Sticks
, and 1 –
8″ Spiral Bamboo
.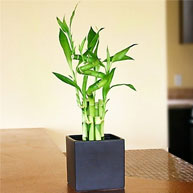 You can add a variety of different bamboo to your arrangement: straight, curtly, hearts, and different sizes. We recommend adding different sizes and shapes to your arrangement. Place your arranged bamboo in the center of your prepared vase, on top of the base layer. While holding the bamboo, fill the vase with rocks, marbles, or gravel around the stalks of bamboo to fill the vase. Once your bamboo and rocks are in place, add water until it just covers the top of the rocks.
To view complete bamboo arrangement, please click the link below to our Lucky 7 Spiral.
http://www.easternleaf.com/Lucky-Bamboo-Arrangement-Lucky-7-Spiral-p/800480-02.htm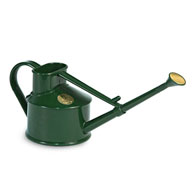 Lucky Bamboo (Dracaena Sanderia) thrive in indirect sunlight. Full sun will cause the leaves to turn yellow. We recommend watering your lucky bamboo arrangement with filtered or bottled water. Water level should cover the top of the rocks. However, lucky bamboo will thrive in vases without rocks as well. For green stalks, we recommend fertilizing your lucky bamboo with liquid fertilizer.


We'd love to see how it turned out. Tag a photo of your tree on instagram or twitter with #easternleaf for us to see or feel free to direct message us at
@easternleaf
for some helpful feedback and tips.
We also have giveaways on maintenance and styling supplies regularly on Twitter, Instagram, and Facebook.